2019 Awards
2019 Australian Cider Awards
ENTRIES OPEN 1 JULY
The Australian Cider Awards presents an unrivalled opportunity to showcase your ciders and have them benchmarked by a world-class panel of judges.
The Awards is the largest cider show in Australia with 260 entries in 2018. Entry to this prestigious show is open to cider and perry products available for sale in Australia. 28 classes of cider and perry are judged including Traditional and New World styles and several specialty and intensified/distilled classes. Entries are blind tasted and assessed in terms of aroma and flavour, appearance, mouthfeel and overall impression.
We have a stellar lineup of judges for 2019, with the full panel to be announced in the coming months.
Medals and trophies will be awarded to the best ciders at the cider industry's gala dinner on Friday 8 November 2019 at The Craft & Co in Collingwood, Melbourne. Tickets to the dinner go on sale in August.
Why enter?
Compare your product against industry benchmarks
Receive feedback from a panel of independent industry experts
Market your product with a recognised stamp of quality

Frequently Asked Questions
What are the rules and classes?
The 2019 Style Guide sets out the Award classes, and the 2019 Competition Information (to be released soon) contains the rules, key dates and everything else you'll need to know to enter.
How do I enter?
Read the Competition Information to confirm eligibility and the Style Guide and determine the appropriate class to enter. Complete the online entry form and pay the entry fee by 27 September 2019. Then deliver your samples between 30 September – 11 October 2019.
When do entries open?
Entries to the 2019 Australian Cider Awards will open on 1 July 2019 and close on 27 September 2019. Samples must be delivered between 30 September – 11 October 2019.
What products can I enter?
Entry is open to any cider that is commercially available in Australia, and this includes imported ciders. Kegs, bottles, cans and any other package may be entered. Further details on eligibility can be found in the Style Guide and the Competition Information.
Where do I send entries?
Show organisers will confirm the delivery address after your entry is received. Samples must be delivered between 30 September – 11 October 2019. Entries received before or after this delivery window will not be accepted. 
What quantity do I need to submit?
Standard and Speciality classes – submit four (4) of each if can/bottle is less than 650ml, or three (3) of each if bottle is 650ml or larger
Ice Cider and Pommeau – submit three (3) of each if bottle is less than 375ml, or two (2) of each if bottle is 375ml or larger
Apple/Pear Spirit – submit two (2) of each bottle. The total volume must be at least 375ml
Is anything new in 2019?
The classes and class descriptions are the same as in 2018.
There will, however, be a new delivery address for entries and we will advise you of this in due course.
For further information about the Awards, please email awards@cideraustralia.org.au
Events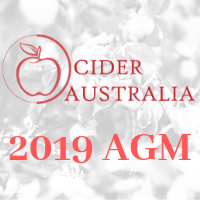 Latest tweets
Tweets by @CiderAustralia