Industry initiatives
Cider Australia encourages cider producers to take voluntary actions to inform and educate consumers about cider.
Made with Aussie Apples logo
Do you use 100% Australian grown apples in your cider? If you do, adding a Made with Aussie Apples logo to your cider packaging will clearly indicate this to consumers and help to raise awareness about cider production.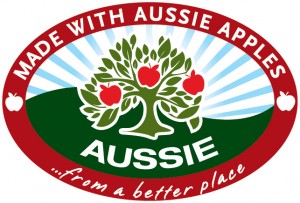 The Aussie Apples logo trademark is held by Horticulture Innovation Australia Limited. Cider producers are permitted to use the logo free of charge on compliant products. Cider Australia is working with Horticulture Innovation Australia and Apple & Pear Australia Limited on the specific arrangements for its use.
In the meantime, if you require further information about the Made with Aussie Apples logo please contact Apple and Pear Australia.
Advisory statement on Sorbitol in Perry
Pears, and therefore perry, contain high levels of naturally occurring sorbitol.
The concentration of sorbitol in perry is well below the threshold for mandatory warning labelling under Standard 1.2.3 of the Australia New Zealand Food Standards Code. However, the total amount of sorbitol that may be consumed at one time by a drinker of perry may be sufficient to cause an adverse reaction (laxative effect) in some people.
Producers are encouraged to voluntarily advise consumers about the sorbitol content of perry through the inclusion of the following statement (or similar) on labels:
"Real pears naturally contain Sorbitol"
Drinkwise 'pregnant lady' logo and other messaging
DrinkWise is an independent, not for profit organisation established by the alcohol industry. In collaboration with industry, it has developed a range of national information and education campaigns aimed at bringing about a healthier and safer drinking culture in Australia.
DrinkWise's primary aim is to encourage consumers to 'Get the Facts' from its Drinkwise website. This website provides evidence-based information on alcohol that is designed to help people make informed choices when drinking. DrinkWise's 'Get the Facts' message is coupled with 'It is Safest Not to Drink While Pregnant' statement and pregnant lady logo.
While use of the DrinkWise messaging is voluntary, a substantial proportion of the drinks industry has committed to adopt this labelling.
Cider Australia encourages cider producers to use DrinkWise messaging. You can register for free access to the DrinkWise logos via the DrinkWise portal.
Contact DrinkWise for more information.
Latest tweets
Tweets by @CiderAustralia