One Mile Brewing Co
Open to visitors
Opening hours
Visit our Facebook page for opening hours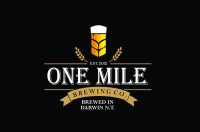 One Mile Brewing Co
Established in 2012 by Stuart Brown and Bardy Bayram, One Mile Brewery is committed to building a reputation behind easy drinking craft beverages designed for the Darwin climate, brimming with flavour.
One Mile Brewery was originally set up in Stu's shed in Stuart Park near the old 'One Mile Station'. As keen home-brewers, Stu and Bardy have experimented with brewing all kinds of beers and cider. To perfect their brew, Stu completed a post-graduate brewing course at the University of Ballarat. 
Their experimentation with brewing quickly became a passion. As their experience grew, Stu and Bardy began to tinker with their set-up to enable them to make bigger quantities and better quality beer. The fledgling brewery quickly outgrew the shed, and Stu and Bardy's passion for beer made them keenly aware that Darwin was lacking locally produced beer. This spurred them on to try and develop their own commercial micro-brewery, and so the process began to transform One Mile Brewery from a hobby to a business.
The Brewery has now moved to larger commercial premises in Winnellie and the brewing set-up was greatly expanded. The brewing processes have also been refined to ensure a consistent, quality product is made. And true to their beginnings, the Brewery is still called One Mile Brewery after the shed in Stuart Park where it all started.
Product:
Pink Lady Cider (5.0%) – Made from 100% Pink Lady apples pressed especially for them in Adelaide, this cloudy (unfiltered) cider has no additives or preservatives. Currently in bottles and on tap in house. 
Contact
Web: One Mile Brewing Co
Address: 8/111 Coonawarra Rd, Winnellie NT 0820, Australia