One Mile Brewing Co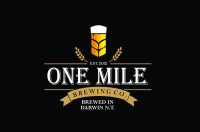 One Mile Brewing Co
One Mile Brewery was established in 2012 by Stuart Brown and Bardy Bayram. 
The Brewery was originally set up in Stu's shed in Stuart Park near the old 'One Mile Station'. Their experimentation with brewing quickly became a passion and the Brewery has now moved to larger commercial premises in Winnellie.
One Mile Brewery makes its Pink Lady Cider from apples pressed especially for them in Adelaide!
Contact
Web: One Mile Brewing Co
Address: 8/111 Coonawarra Road, Winnellie NT 0820