The Side Project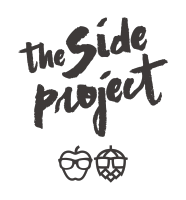 The Side Project
In 2006 Pete and Caz developed an orchard in Kalangadoo and planted some cider varieties – and very quickly discovered they weren't all that good eating. Consequently, their cows were very happy (and fat).
It wasn't until 2014 we thought we'd have a crack at making cider. We spent our weekend creating 100L of juice with 3 Breville juicers in the back shed. We're still small, but we're a lot bigger than we were!
Today our Side Project has grown into an independent craft cidery and beerworks, that proudly calls Kalangadoo and the Limestone Coast home.
The Side Project, by your craft beer and cider mates in Kalangadoo – Jamie, Sally, Anita, Caz, Pete, Joe (and Jim).
Independently owned by 6 friends in the Limestone Coast.
Small batch.
100% Kalangadoo apples grown on our orchard in Kalangadoo.
Top 10 finalist in 2016 Brand SA Limestone Coast Regional awards.
Current products are:
Mr Bright Cide – medium sweet – available in 355mL cans and 50L kegs
Dry Vintage – dry – limited availability in 500mL bottles
Contact
Web: The Side Project
Address: 45 Strathvale Rd, Kalangadoo SA 5278, Australia