100% Australian Grown confirmed as bright spot in the cider category
13 Mar 2020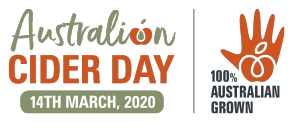 Australian drinkers will unite tomorrow to celebrate authentic cider made from 100% Australian Grown fruit.
Cideries and other venues across Australia are gearing up for the inaugural Australian Cider Day on 14 March, launched by Cider Australia to boost understanding about product origin.
President of Cider Australia Sam Reid said there is even more cause for cheer with new data from IRi Worldwide confirming that the Australian juice segment has grown to more than 10% of the cider category by retail sales value and whilst only a relatively small part of the market, grew by 10% over the past 12 months, 13 percentage points ahead of the rest of the cider category[1].
"It's the first time we've seen cider category data at this level of detail and the results are encouraging for producers who are committed to using apples and pears from Australian orchards", said Mr Reid. "….we've felt for a number of years that Australian Craft Cider was a 'hotspot' in the cider category which has been under pressure for that last few years, and it's great to have the data to prove it!" continued Mr Reid.
Cider Australia launched its trust mark to help drinkers identify ciders made from Australian fruit. The Australian cider community has embraced this initiative with more than 60 producers approved to display the trust mark on cider products.
Anyone looking to find out about cider events, tastings and other festivities taking place over the weekend can visit the Australian Cider Day website www.cideraustralia.org.au/australianciderday or Facebook page.
#drinkaustraliancider
[1] Australian juice cider 10.2% vs Non-Australian juice cider -3.2% MAT to 02/02/2020, Off-premise value, IRI Worldwide.
– Ends –
MEDIA ENQUIRIES
For more details please contact Cider Australia executive officer Jane Anderson on 0434 559 759 or office@cideraustralia.org.au or visit www.cideraustralia.org.au.
About Cider Australia 
Cider Australia is an independent, not-for-profit organisation funded by cider businesses and sponsors, established in 2012. It aims to build a sustainable cider category by undertaking activities that improve the quality of ciders produced and marketed in Australia. The organisation represents the interests of the cider industry to policy makers, calling for regulations and policies that support a diverse and evolving cider industry, and runs the national cider conference AusCider and the Australian Cider Awards.
About Australian Cider Day
Australian Cider Day will fall on 14 March each year. Cider Australia launched this event to raise awareness of the 100% Australian Grown trust mark and create an occasion to educate drinkers about product origin and celebrate Australian Cider. 
Events
Latest tweets
Tweets by @CiderAustralia