Australian Cider Day

On Saturday 12th March 2022 we will celebrate Australian Cider Day and all the incredible ciders made across Australia from 100% Australian Grown fruit!
Cider producers will mark this day by organising cider events, tastings and other fun festivities. And as you'd expect there will be a lot of talk about how great 100% Australian Grown cider is. 
Connect with the Australian cider community by attending the events listed below and looking for the 100% Australian Grown trust mark. Share your pictures on social media with the hashtag #drinkaustraliancider
If you want to find out more about 100% Australian Grown cider, visit our trust mark page here. 
Cheers!
AUSTRALIAN CIDER DAY EVENTS – 12 MARCH 2022
Victoria 
Queensland
Australian Cider Day @ Sunshine Coast Cider – Sunshine Coast Cider is organising a unique collaborative event to raise funds to help those impacted by the trauma and destruction of floods and war. Sunshine Coast Cider are donating 99 Karma Kegs full of delicious Sunshine Cider to be served in venues far and wide. Get in touch with Martin or Regine Rellstab to get involved.
P.S. Producers of 100% Australian Grown cider, if you're keen to get involved contact us for your information pack and don't forget to send through details about your events.
Events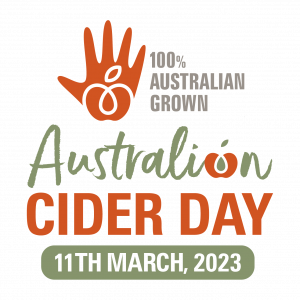 Latest tweets
Tweets by @CiderAustralia