Exporting
The Australian Government's Export and Regional Wine Support Package is an exciting, one–off allocation of $50 million over four years, which aims to grow the Australian wine sector by showcasing the nation's wine tourism offering and driving demand for Australian wine exports. Wine Australia is responsible for delivering the Package in consultation with the Australian wine sector.
The Package comprises four programs which are focused on international marketing campaigns, Wine Export Grants, capability development workshops, state-based and competitive grants, and development of a brand strategy for the cider industry.
Program 4: Transforming Australian cider businesses
Under Program 4, the Australian Government is investing $500,000 in the Australian cider industry. To our knowledge, this is the largest single investment by any government in the Australian cider industry.
The program is being delivered by Wine Australia with the support of external consultants, guided by a work plan subject to agreement from the Australian Government, Cider Australia and other key stakeholders.
Australian Craft Cider Brand
A key objective of the investment was to establish a compelling brand proposition to market 'Australian craft cider' internationally that can be leveraged by Australian cider producers. This included the launch of Cider Australia's 100% Australian Grown trust mark.
Since its launch in October 2018, the trust mark has become increasingly present in retail stores, as Cider Australia members receive certification to apply the mark on their packaging. 
A further initiative was the development of a Go-To-Market strategy and a 'toolkit' to assist producers to understand prospective export markets and navigate the rules and complexities associated with exporting to those markets.
Growing Cider Exports program
Cider producers interested in opportunities and strategies to enter export markets were offered new tools and insights at the inaugural Growing Cider Exports program, delivered by Hydra Consulting from 21 to 24 July 2020.
The series assisted attendees to explore distribution networks, assess their export readiness and understand the regulatory environment of their target markets. The online workshops were practical and included strategies to pitch a brand and apply the trust mark and brand proposition in market. The program was delivered in 4 x 90 minute modules, and covered the following topics:
Module 1: Intent, brand pitching and the trust mark
Module 2: Financial modelling for export
Module 3: Distribution and activation, export readiness and the regulatory environment
Module 4: Chinese cultural awareness
The Australian Cider Guide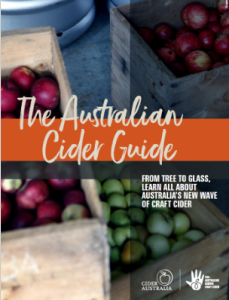 Also developed under Program 4, The Australian Cider Guide is designed to educate consumers and drinks trade professionals on the flavours, styles, varieties and regions that make Australian craft cider unique.
Authored by wine and drinks journalist Max Allen, the Australian Cider Guide is available in English, Simplified Chinese and Japanese versions, as part of a broader marketing strategy to target key export markets.
DOWNLOAD A COPY (Simplified Chinese) 
For more information email info@cideraustralia.org.au.
Learn more about the $50m Package on the Wine Australia website.
Latest tweets
Tweets by @CiderAustralia