Awards
Cider Australia runs the annual Australian Cider Awards. As the largest cider show in Australia, the Awards is at the cutting edge of cider judging and is well respected nationally and internationally.
In 2019, 276 local and international cider and perry products entered the show making it the largest cider competition in Australia. The 2020 show was postponed due to the COVID-19 pandemic (read the announcement here).
Through the Awards, we promote and reward excellence in cider production and bring together cider makers, industry representatives, communicators, retailers, sommeliers and consumers.
ABOUT
History
The Australian Cider Awards was established in 2011 by CiderOz, led by cider apple expert David Pickering and producers James and Gail Kendell, as a way to encourage quality improvements and educate consumers about the diversity of cider.
The inaugural competition had close to 100 entries, and was judged by a panel of wine and beer experts in Orange, NSW. With 18 medals awarded, the competition proved an excellent opportunity for Australian producers to benchmark their products and learn about cider. Entries to the competition have grown steadily each year since.
In 2014, the organisation of the Awards was handed over to Cider Australia. A committee of volunteers now runs the competition in Melbourne, with the focus moving towards education, improving consistency in cider shows across Australia and building knowledge and experience in judging.
Leading the way
The Awards is leading the standardisation and improvement of cider judging across Australia. In 2015, we developed a Style Guide tailored specifically to the Australian market that defines how products in each class should present in terms of aroma and flavour, appearance, mouthfeel and overall impression.
Each year, we bring an international cider expert to Australia to join the judging panel, run technical seminars and add an international perspective to the proceedings. In past years we have been honoured to host Tom Oliver, Andrew Lea and Bill Bradshaw from the UK, Gary Awdey and Eric West from the US, Malcolm Reeves from New Zealand, Claude Jolicoeur from Canada and Eduardo Vázquez Coto from Spain.
We also invest substantially in educating and training producers, judges and competition organisers, and share knowledge with regional cider shows across Australia. We are also developing best practice judging and organisational policies and protocols.
Organising committee
The Australian Cider Awards is run by an experienced committee of volunteers led by Warwick Billings, Co-owner of LOBO Cider, Chief Steward of the Australian Cider Awards and President of Cider Australia.
On behalf of Cider Australia, the organising committee is responsible for all aspects of the Awards. The organising committee:
manages the organisation and funding of the Awards
sets the Award classes and rules
establishes a highly qualified judging panel comprising 7 judges and 4 associate positions
undertakes marketing & promotion activities
manages logistics on the ground prior to, during and after the judging
runs educational and training seminars in conjunction with the Awards
All queries about the Awards should be directed to awards@cideraustralia.org.au
STYLE GUIDE
Cider Australia maintains a comprehensive Style Guide as part of the Australian Cider Awards. The Style Guide was developed in consultation with the prestigious Great Lakes International Cider and Perry Competition (GLINTCAP).
The Style Guide is updated each year. A copy of the current Style Guide can be found here.
There were no changes to the Awards classes in 2019. In 2018, a new lighter strength cider class (1.15-3.5%) was introduced, and the 'Medium' cider and perry classes were split into 'Medium' (~ 9 – 25g/L sugar) and 'Medium Sweet' (~ 25-40g/L sugar), and the apple and pear spirits class was split into a non-aged (Eau de Vie) and aged spirit.
2020 AWARDS
Cider Australia postponed the 2020 Australian Cider Awards due to the COVID-19 pandemic. Details about the next Awards will be announced in mid-2021.
REGIONAL SHOWS
There are a number of state-based and regional cider shows in Australia. These include:
For cider enthusiasts and commercial producers, this show is based on the Mornington Peninsula of Victoria. Results are announced at the Red Hill Show held in March each year.
Royal Adelaide Beer & Cider Awards
Open to cider producers from Australia and New Zealand, this show is held in Adelaide each year.
Sydney Royal Beer & Cider Show
2020 Style Guide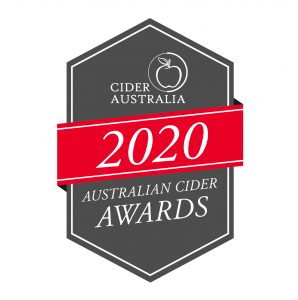 Download the 2020 Style Guide here