AusCider 2022 conference tickets now on sale
24 Mar 2022
National industry body Cider Australia has opened tickets sales for the national cider conference to be held in Batlow, New South Wales from 19-20 May 2022.
Internationally-respected retail marketing and horticulture expert John Stanley will present a keynote address and workshop at the AusCider 2022 conference focusing on the new post-Covid marketplace we find ourselves in.
John's presentation It's Time to Get Naked will discuss strategies to increase customer count and average sales per customer, and his interactive workshop will take this concept further and drill down into what individual businesses need to do to successfully execute new ideas.
President of Cider Australia and co-owner of LOBO Cider Warwick Billings said the conference program offers a unique mix of cider education in the areas of production, growing systems, science, sensory analysis and business & marketing.
'We are running a hybrid event to manage the new Covid-normal and the silver lining to the cloud of disruptions we have faced over the past couple of years is being able to broaden the program of speakers to include leading cider experts from the United States, France and Japan', said Warwick.
'Our virtual guest speakers will join an impressive line-up of Australian producers, researchers and technical specialists in the only conference of its kind in Australia', he said.
 
AusCider 2022 includes a cidery/orchard tour and conference dinner and coincides with the annual Batlow CiderFest on Saturday 21 May.
Tickets to AusCider 2022 are now available via Eventbrite.
For more information on the conference visit www.cideraustralia.org.au/auscider
– Ends –
MEDIA ENQUIRIES
Contact Cider Australia executive officer Jane Anderson on 0434 559 759 or office@cideraustralia.org.au or visit www.cideraustralia.org.au.
About Cider Australia 
Cider Australia is an independent, not-for-profit organisation funded by cider businesses and sponsors, established in 2012. It aims to build a sustainable cider category by undertaking activities that improve the quality of ciders produced and marketed in Australia. The organisation represents the interests of the cider industry to policy makers, calling for regulations and policies that support a diverse and evolving cider industry, and runs the national cider conference AusCider and the Australian Cider Awards.
About AusCider
AusCider is the cider industry's annual information exchange and networking event connecting cider producers, fruit growers, researchers, suppliers and other industry representatives from Australia and overseas. The Batlow CiderFest committee and the NSW Department of Primary Industries organised and convened the first seven conferences (2012-2018) in Batlow, NSW.
In 2019, Cider Australia (CA) and Batlow CiderFest (BCF) agreed to transition management to the peak industry body to allow it to rotate between the key cider producing states of Australia. The 2020 and 2021 conferences were postponed and the 2022 conference moved from Western Australia to Batlow due to the Covid-19 pandemic.
About John Stanley
John Stanley (pictured below) is a Nuffield Scholar and an international consultant with agricultural clients in 35 countries. He is also the owner, with his wife Linda, of the award-winning Chestnut Brae, a 1,000 tree sweet chestnut farm near Nannup in Western Australia. This farm has become a recognised agritourism destination as well as focusing on value-added chestnut products.
John was recently employed by Tourism WA to help develop the cider trail in WA. He has authored a number of books about agritourism and has spoken at many of the global leading conferences.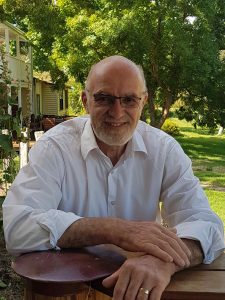 Events
Latest tweets
Tweets by @CiderAustralia