Australian Cider Awards judges announced
22 Aug 2023
(updated)
Cider Australia has announced Briony Liebich as Chair of Judges for this year's Australian Cider Awards.
"Briony has served as a cider judge across many years and her wide ranging sensory expertise is respected in the industry", said Cider Australia President Warwick Billings.
"As the Chair, Briony will be instrumental in ensuring the Awards maintains its strong reputation and continues to bring value to the Australian cider industry. She will be joined by a respected team of judges with expertise across beverage production, marketing, communication and education", he said.
"The judges' assessment is holistic and in-step with industry trends and innovations, with diversity of expertise ensuring a robust process as they make their way through the 30 different styles of cider.
"The Australian Cider Awards has been celebrating excellence in cider making since it was established in 2011, and we are proud that winning a medal remains a prestigious achievement", said Warwick.
Enter the 2023 Australian Cider Awards online via https://wineshowpro.azurewebsites.net/views/auth/login
The Award winners will be announced on Thursday 26 October at a gala industry dinner in Melbourne. Tickets are on sale now via Eventbrite.
Key dates
Awards entries close
Fri 22 Sep 2023
Deliver samples
Mon 25 Sep – Fri 6 Oct 2023
US cider master class hosted by guest international judge Darlene Hayes
Sun 15 Oct 2023 (6.00-7.30pm)
Golden Gate Hotel, South Melbourne (Tickets)
Judging (closed to the public)
Mon 16 & Tue 17 Oct 2023
William Angliss Institute, Melbourne
Awards presentation dinner
Thu 26 Oct 2023 (6.00-10.00pm)
The Victoria Hotel, Melbourne (Tickets)
FULL DETAILS ON AWARD CLASSES AND RULES CAN BE FOUND HERE.
– Ends –
Media enquiries
Contact Cider Australia executive officer Jane Anderson on
0434 559 759 or office@cideraustralia.org.au or visit www.cideraustralia.org.au.
About Cider Australia 
Cider Australia is an independent, not-for-profit organisation funded by cider businesses and sponsors, established in 2012. It aims to build a sustainable cider category by undertaking activities that improve the quality of ciders produced and marketed in Australia. The organisation represents the interests of the cider industry to policy makers, calling for regulations and policies that support a diverse and evolving cider industry, and runs the Australian Cider Awards and the national AusCider conference.
About the Awards
The 12th annual Australian Cider Awards will be held in October 2023. The Awards is the largest cider competition in Australia and is leading the standardisation and improvement of cider judging across Australia. The judging panel brings expertise from across the alcoholic beverage industry and includes:
chair Briony Liebich (Flavour Logic)
international guest Darlene Hayes (writer and educator)
Max Allen (drinks journalist and author)
Nyall Condon (Flying Brick Cider Co)
Adam D'Arcy (Plenty Cider)
Jenny Polack (Bacchus Academy)
Rob Hall (Napoleone Cider Bar)
Chair of Judges – Briony Liebich
Briony is a sensory analyst, Certified Cicerone, beer educator, writer and judge. She was a judge at the Australian Cider Awards in 2016, 2018 and 2019.
Briony has worked in the beer, wine and food industries for 18 years and has extensive experience sampling, judging and consulting to large and small businesses.
Briony runs sensory consultancy Flavour Logic (www.flavourlogic.com) based in South Australia, working with the food and beverage industry and general consumers to improve tasting skills.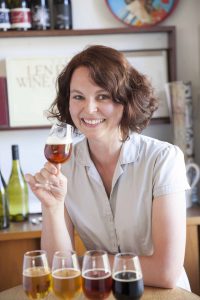 Latest tweets
Tweets by @CiderAustralia