Australian Cider Awards set to begin
13 Jan 2022
Cider Australia has revealed the judging panel for the tenth Australian Cider Awards, the first national show to be held since the pandemic reached Australian shores.
President of Cider Australia and chair of the Awards organising team, Warwick Billings, said despite many challenges an excellent team had been assembled to judge the 2021 Australian Cider Awards.
"233 entries have been received this year across 27 classes, including low and no-alcohol products for the first time", said Warwick.
"Due to several pandemic-related postponements we will judge in the middle of the Summer holidays, a challenging time in hospitality at the best of times let alone this year, and we are ever thankful to the many volunteers who support our show.
Entries will be assessed blind by a team of judges with skills across the drinks spectrum including:
Chief judge Loïc Le Calvez (Wine Truth)
Nyall Condon (Flying Brick Cider Co)
Alice Glare (4 Pillars Distillery)
Tim Jones (RDS Partners)
Tina Panoutsos (Carlton & United Breweries)
Tim Shand (Napoleone Cider)
Kirrily Waldhorn (The Beer Diva)
Jason Hirsch (Dan Murphy's) – Associate
"We will not hold our usual industry gala dinner this year as we know that orchardists and cider makers will be busy preparing for the year's vintage", Warwick said.
"Instead we will run a virtual Awards presentation on the evening of Wednesday 2 February to celebrate the 2021 Award winners and the prospects for a better year ahead", said Warwick.
Registrations to the Virtual 2021 Australian Cider Awards Presentation are now open via https://webinar365.in/cideraustralia/
FULL DETAILS ON AWARD CLASSES AND RULES ARE ON THE CIDER AUSTRALIA WEBSITE.
Key dates
Judging (William Angliss Institute, Melbourne – closed to public) – Mon 17 & Tue 18 Jan 2022
Virtual Awards Presentation – Wed 2 Feb 2022 (8pm ADST/7.30pm ACST/5pm AWST)
– Ends –

BIOGRAPHY – Loïc Le Calvez
Loïc Le Calvez is an Oenologist / Wine Consultant. Growing up up in Brittany, France and working in his father's premium bottle shop from a young age, he discovered a fascinating variety of cider styles and characteristics. With his father also being the owner of a small apple orchard and an amateur cider maker, cider was often the drink of choice at home. A former Chief Winemaker and Chief Operating Officer at Taltarni in Victoria and Clover Hill in Tasmania, in 2016 Loïc started his own business 'Wine Truth'. With 'Wine Truth', Loïc consults to wineries but also delivers unique wines to individuals whilst sharing the story behind these wines. Loïc is also an agent for French cooperage 'Tonnellerie Vicard' in Australia and a regular judge in Wine Shows.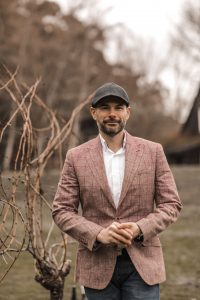 MEDIA ENQUIRIES
For more details please contact Cider Australia executive officer Jane Anderson on 0434 559 759 or office@cideraustralia.org.au or visit www.cideraustralia.org.au.
About Cider Australia 
Cider Australia is an independent, not-for-profit organisation funded by cider businesses and sponsors, established in 2012. It aims to build a sustainable cider category by undertaking activities that improve the quality of ciders produced and marketed in Australia. The organisation represents the interests of the cider industry to policy makers, calling for regulations and policies that support a diverse and evolving cider industry, and runs the national cider conference AusCider and the Australian Cider Awards.
About the Awards
The 10th annual Australian Cider Awards will be held in Summer 2021/22 following its postponement in 2020 due to the covid-19 pandemic. The Awards is the largest cider competition in Australia and is leading the standardisation and improvement of cider judging across Australia. It promotes and rewards excellence in cider production and bring together cider makers, industry suppliers, communicators, retailers, sommeliers and consumers. This year, the Awards received 233 entries from 66 Australian and international producers.
Events
Latest tweets
Tweets by @CiderAustralia