Australian Cider Conference heads to the West!
25 Jan 2023
The Australian cider industry's national conference will be held in the Perth Hills of Western Australia from 3-5 May.
Organised by national industry body Cider Australia, AusCider brings together cider producers, fruit growers, researchers and cider industry representatives from across Australia and overseas.
Warwick Billings, President of Cider Australia, said the conference will deliver a unique program of technical, sensory, science, production and business-related cider education across 2.5 days of seminars, networking events and behind-the-scenes visits to local orchards and cideries.
"This year's conference theme is The Business of Cider. Keynote speaker Ryan Burk from the United States will join Australian and international experts to discuss the hows and whys of running successful craft cider businesses.
"We are excited about holding our first event in Western Australia as it will allow us to forge stronger linkages with the Western Australian cider community and showcase the innovations and developments happening in Western Australia and beyond", said Warwick.
AusCider 2023 is proudly presented by fermentis and Pomewest and generously supported by local partners and sponsors including the Western Australian Department of Primary Industries and Regional Development.
For more information visit www.cideraustralia.org.au/auscider
– Ends –
Media enquiries
Contact Cider Australia executive officer Jane Anderson on
0434 559 759 or office@cideraustralia.org.au or visit www.cideraustralia.org.au.
About Cider Australia 
Cider Australia is an independent, not-for-profit organisation funded by cider businesses and sponsors, established in 2012. It aims to build a sustainable cider category by undertaking activities that improve the quality of ciders produced and marketed in Australia. The organisation represents the interests of the cider industry to policy makers, calling for regulations and policies that support a diverse and evolving cider industry, and runs the national cider conference AusCider and the Australian Cider Awards.
About AusCider
AusCider is the cider industry's annual information exchange and networking event connecting cider producers, fruit growers, researchers, suppliers and other industry representatives from Australia and overseas. The Batlow CiderFest committee and the NSW Department of Primary Industries organised and convened the first seven conferences (2012-2018) in Batlow, NSW. In 2019, Cider Australia and Batlow CiderFest agreed to transition management to the peak industry body to allow it to rotate between the key cider producing states of Australia.
About Ryan Burk – Keynote Speaker
From growing up in the epicentre of New York State apple production to leading some of the US's most ambitious and industry defining cider programs, Ryan Burk (pictured right) has spent a life time with apples and cider. He helped establish and lead Virtue Cider in Michigan (acquired by ABI), and elevate America's largest cider maker, Angry Orchard, taking the brand to new successes on both the national and local stage with the Innovation Cider House in Walden NY, where he focused on terroir driven ciders that have won awards around the world.
As dedicated industry advocate, Ryan has served on the board of The American Cider Association and is a founding board member of The Cider Institute of America, the US's premier science-based education platform. He has been recognised for his industry advocacy, innovation and collaboration by Imbibe 75 People to Watch and Wine Enthusiast's 40 Under 40.
Ryan is now making cider under his own label, Occam Cider Co. as well as co-founding Feel Goods Company, a full definition innovation pipeline development studio bringing beverage brands to life across categories.
Below: AusCider 2023 Keynote Speaker Ryan Burk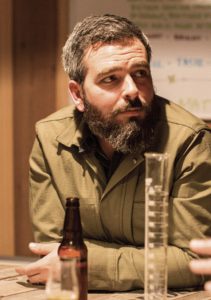 Events
Latest tweets
Tweets by @CiderAustralia