Australian cider in the spotlight on National Cider Day
5 Mar 2021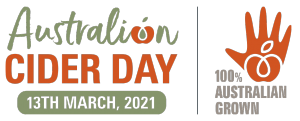 Australian Cider Day on Saturday 13th March is the perfect opportunity to seek out and celebrate Australian craft ciders.
Industry body Cider Australia established this annual event to highlight product origin and help consumers learn more about authentic Australian cider.
Cider Australia President Warwick Billings said the events of the past year have focused the minds of consumers on authenticity and products made by locals with ingredients they understand and trust.
"Cider made with 100% Australian grown fruit continues to outperform the rest of the category", said Warwick.
"Cider Australia launched its 100% Australian Grown trust mark to help consumers identify and buy local products, and it is now displayed on hundreds of ciders across Australia helping them to buy local", Warwick said.
"With the apple harvest upon us and cider makers beginning to press and ferment thousands of bins of fruit across Australia, Australian Cider Day is the perfect opportunity to salute 100% Australian craft cider".
Cider producers will mark this day by organising cider events, tastings and other fun festivities with events published on Cider Australia's website as they are announced.
Everyone is encouraged to share news and photos about Australian Cider Day events with the hashtag #drinkaustraliancider to ensure the country's cider cheer is spread far and wide.
For more details visit www.cideraustralia.org.au/australianciderday
#drinkaustraliancider
– Ends –
MEDIA ENQUIRIES
For more details please contact Cider Australia executive officer Jane Anderson on
0434 559 759 or office@cideraustralia.org.au or visit www.cideraustralia.org.au.
About Cider Australia 
Cider Australia is an independent, not-for-profit organisation funded by cider businesses and sponsors, established in 2012. It aims to build a sustainable cider category by undertaking activities that improve the quality of ciders produced and marketed in Australia. The organisation represents the interests of the cider industry to policy makers, calling for regulations and policies that support a diverse and evolving cider industry, and runs the national cider conference AusCider and the Australian Cider Awards.
Events
Latest tweets
Tweets by @CiderAustralia