Australian craft cider industry launches world-first trust mark
5 Oct 2018
A new way to identify ciders made with 100% Australian grown fruit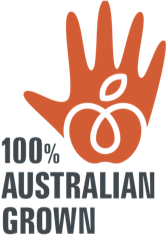 Cider Australia has launched a world-first trust mark for craft ciders to educate consumers about the quality and origin of ingredients, and help them make more informed choices when buying cider. Developed by brand reputation architect Trevor Flett, in collaboration with Guy Taylor Consulting, the 100% Australian Grown trust mark aims to combat current labelling laws which make it difficult to identify from where fruit in a cider has been sourced. Less than 15 per cent of Australia's cider market comprises craft ciders made with 100% Australian grown fruit.
According to Trevor Flett, the trust mark was developed over two months working closely with Cider Australia and Australian craft cider producers. "Creatively, introducing an apple icon needed to consider the many apple icons already in the marketplace – from NYC to the big technology products we all come across each day. The hand and apple combination was developed through a process of elimination. The design celebrates the hand-crafted nature of growing and producing craft cider. We wanted to highlight our point of difference, not our sameness, for this distinctive trust mark. The ochre colour is also iconically Australian, taking us 'Back to Earth'. A vibrant and energetic house style, and look and feel, support this exciting new trust mark."
"Authenticity is very important to our industry," commented Sam Reid, Cider Australia president and craft cider producer. "The trust mark will help consumers to recognise what makes Australian craft ciders unique – a premium beverage made with 100% Australian grown apples or pears. This initiative also aims to drive significant growth for the Australian craft cider community, raising its profile both domestically and internationally."
Supporting local fruit growers and craft cider producers, the launch of the trust mark is part of a larger campaign to build a sustainable cider industry in Australia and establish an export market for local brands. Cider Australia has been working with Wine Australia to develop the Australian Cider trust mark and brand proposition after receiving a $500,000 boost from the Australian Government's $50 million Export and Regional Wine Support Package to market and grow Australian craft cider internationally.
"This is the single biggest investment the Australian cider industry has received from any government. The trust mark forms part of a broader strategy to elevate the craft cider category, lift competition and grow exports to allow greater investment in innovation," added Mr Reid.
The trust mark also raises awareness among consumers that they are supporting Australian fruit growers, boosting Australian jobs in the craft cider making industry and helping regional communities in the process. Cider Australia estimates that approximately 30 per cent of drinkers will choose to drink a premium cider made with 100 per cent Australian-grown fruit if they have the choice and can identify these ciders.
The trust mark is only available to Cider Australia members to ensure the cider produced meets an industry standard, while providing complete integrity within the market. Consumers will start to see the trust mark on eligible craft ciders in retail outlets starting from November this year, rolling out more widely over summer.
– Ends –
About Cider Australia
Cider Australia is an independent, not-for-profit organisation funded by cider businesses and sponsors, established in 2012. It aims to build a sustainable cider category by undertaking activities that improve the quality of ciders produced and marketed in Australia. The organisation represents the interests of the cider industry to policy makers, calling for regulations and policies that support a diverse and evolving cider industry.
MEDIA ENQUIRIES
To interview Cider Australia spokespeople and other industry representatives, please contact:
Adrienne Pearson or Roberta Marcroft
Write Away Communication + Events
Ph: 02 9978 1400
Email: adrienne_pearson@writeaway.com.au  roberta@writeaway.com.au
Events
Latest tweets
Tweets by @CiderAustralia