Cider Festival returns to Sydney!
6 Sep 2018
Australia's largest craft cider festival returns to Sydney next month mixing fun, frivolity, education and an amazing selection of local and internationally crafted ciders.
The sixth Australian Cider Festival will be held at the Mercure Sydney at the top of George Street, Chippendale from 12-6pm on Saturday 6th October.
Cider Australia President Sam Reid said festival attendees are in for a treat with 20+ craft cider producers to exhibit alongside a feast of tempting food and live entertainment.
"Festival goers will be able to sample and meet the makers of the best ciders available in Australia while relaxing on the Mercure's sunny outdoor terrace – worlds apart from the hustle and bustle of Railway Square below", Mr Reid said.
"Many of the ciders that producers will show at the festival can only be tasted when visiting cellar doors, so this is a great opportunity to try some weird and wonderful ciders you might not otherwise see", said Mr Reid.
"There is no better place than the Australian Cider Festival to brush up your cider knowledge and join in the biggest celebration of craft cider ever held in Australia!"
The festival will be held in conjunction with the launch of the world's first craft cider trust mark and the presentation of the 2018 Australian Cider Awards at a gala dinner on Friday 5th October.
Richard Feyn from Sydney Brewery said, "Sydney Brewery and the Mercure Sydney are proud to be supporting the festival as major sponsors this year, reflecting our support of Australian cider producers".
Around 1,000 people are expected to attend the festival with 100+ local and international ciders available to taste, cider-matched food and master classes throughout the afternoon.
Cider brands appearing at the festival include Cheeky Grog Co, Darkes Cider, Flying Brick Cider Co, Hillbilly Cider, LOBO Cider, Incy Wincy Cyder, Kelly Brothers Cider Co, Napoleone Cider, Pomologist Cider, Sydney Cider, The Apple Thief, Westons Australia and Willie Smith's Cider.
Tickets to the festival are $40 presale or $45 at the door and include unlimited free tastings, a tasting glass and program.
To buy tickets visit eventbrite.com.au. Visit facebook.com/australianciderfestival or cideraustralia.org.au for more details.
Contact office@cideraustralia.org.au with stallholder queries.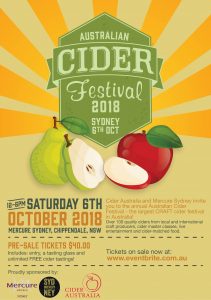 Events
Latest tweets
Tweets by @CiderAustralia