Entries surge in national cider show
14 Sep 2017
The Australian Cider Awards is set for a rousing show this Spring as producers vie for honours in the nation's largest cider competition.
Run by national industry body Cider Australia, the 7th annual Awards has attracted a record 248 entries, 25 per cent more than last year.
Cider Australia President Sam Reid said the Awards recognises excellence in cider production and also looks to reward innovation as cider makers continue to explore new territory.
As more and more people delve into the diverse and impassioned world of cider, Cider Australia is pleased to announce Dan Murphy's as sponsor of the Best in Show award.
"If you look on the shelves of retailers you can see that cider drinkers are becoming more discerning and looking for new experiences, so it is not surprising to see a 44 per cent jump in entries in the dry traditional cider class".
"We are also excited to see a more than doubling of entries in the experimental and spirits classes", said Mr Reid.
The results of the Awards will be announced at the cider industry's annual gala dinner at The Craft & Co in Collingwood on Friday 27 October.
Mr Reid said that Cider Australia will also host an Industry Forum on Saturday 28 October with a full program of activities geared towards education, engagement and capacity building.
"The cider industry is at a crucial point in its development and the Forum is an opportunity for us to regroup and plan for the future, to ensure we stay on a sustainable trajectory", Mr Reid said.
For more information contact Cider Australia executive officer Jane Anderson on office@cideraustralia.org.au or visit www.cideraustralia.org.au  
2017 Australian Cider Awards – Key dates
| | |
| --- | --- |
| Entries Closed | Fri 1 Sept |
| Deliver Entries | 1 Sept – 15 Sept |
| Spanish Cider Master Class | Mon 25 Sept (William Angliss Institute, VIC) |
| Judging (closed to public) | Tue 26 and Wed 27 Sept |
| Cider Awards Dinner | Fri 27 Oct (The Craft & Co, VIC) |
| Cider Australia Industry Forum | Sat 28 Oct (The Malthouse Theatre, VIC) |
 Tickets to the Spanish Cider Master Class hosted by guest judge at the Australian Cider Awards, Eduardo Coto, are $40 ($20 Members of Cider Australia) and available through Eventbrite.
 Full details on the Industry Forum will be available on Cider Australia's website in late September.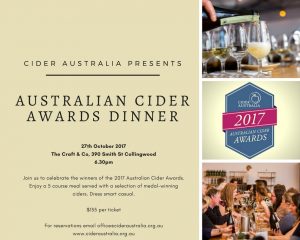 Events
No Events
Latest tweets
Tweets by @CiderAustralia