Farm gate marketing in focus at AusCider 2022
16 May 2022
This year's Australian Cider Conference officially opens in Batlow, New South Wales next Thursday as Batlow prepares to welcome thousands of cider enthusiasts to the region for its annual cider festivities.
Bringing together an expert line-up of Australian and international speakers, AusCider 2022 offers a unique mix of technical, business and sensory cider education.
President of Cider Australia and co-owner of LOBO Cider Warwick Billings said the organisation is pleased to have secured retail marketing and horticulture expert John Stanley as a keynote speaker and workshop lead.
"Participants have the opportunity to tour the Wilgro orchard and cidery in Batlow and participate in John's interactive workshop The Devil is in the Detail that will drill down into the strategies needed to successfully develop new ideas in 2022 and beyond", said Warwick.
The conference program also includes a dinner, supplier showcase and a full day of conference sessions enabling participants to meet, connect and engage with industry leaders and influencers or the first time since early 2020.
Tickets are available until midday on Monday via Eventbrite.
For more information about the conference and speakers visit www.cideraustralia.org.au/auscider
The conference leads in to the annual Batlow CiderFest street festival on Saturday 21 May – for more information visit www.batlowciderfest.com.au
– Ends –
MEDIA ENQUIRIES
Contact Cider Australia executive officer Jane Anderson on 0434 559 759 or office@cideraustralia.org.au or visit www.cideraustralia.org.au.
About Cider Australia 
Cider Australia is an independent, not-for-profit organisation funded by cider businesses and sponsors, established in 2012. It aims to build a sustainable cider category by undertaking activities that improve the quality of ciders produced and marketed in Australia. The organisation represents the interests of the cider industry to policy makers, calling for regulations and policies that support a diverse and evolving cider industry, and runs the national cider conference AusCider and the Australian Cider Awards.
About AusCider
AusCider is the cider industry's annual information exchange and networking event connecting cider producers, fruit growers, researchers, suppliers and other industry representatives from Australia and overseas. The Batlow CiderFest committee and the NSW Department of Primary Industries organised and convened the first seven conferences (2012-2018) in Batlow, NSW.
In 2019, Cider Australia (CA) and Batlow CiderFest (BCF) agreed to transition management to the peak industry body to allow it to rotate between the key cider producing states of Australia. The 2020 and 2021 conferences were postponed and the 2022 conference moved from Western Australia to Batlow due to the Covid-19 pandemic.
About John Stanley
John Stanley (pictured below) is a Nuffield Scholar and an international consultant with agricultural clients in 35 countries. He is also the owner, with his wife Linda, of the award-winning Chestnut Brae, a 1,000 tree sweet chestnut farm near Nannup in Western Australia. This farm has become a recognised agritourism destination as well as focusing on value-added chestnut products.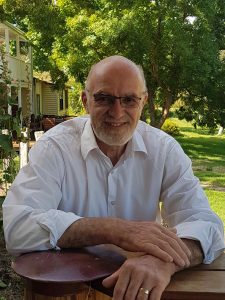 Latest tweets
Tweets by @CiderAustralia