Willie Smith's Cider Makers
Open to visitors
Opening hours
Check the Facebook page for opening hours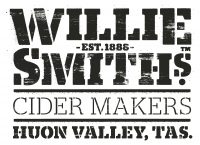 Willie Smith's
Willie Smith's ciders are made from apples grown, crushed, fermented, and bottled on their farm in Tassie's Huon Valley.
William Smith first started growing apples in the Valley in 1888. It's Willie's great-grandson, Andrew who farms the land organically today and who started the cidery – the definition of orchard to bottle.
From their isolated little valley, they're showing the world just how good cider can be.
Contact
Web: Willie Smith's Cider Makers
Address: 2064 Huon Highway, GROVE 7109, Australia