Tasmanians win cider industry prize
8 Nov 2019
Cider Australia has awarded its Champion of the Industry Award to Dr Clive Crossley and partner Lynne Uptin OAM of Red Sails Cider in Tasmania.
The Award honours individuals who have made an outstanding contribution to the Australian cider industry over a prolonged period of time and was announced at the 2019 Australian Cider Awards Dinner in Melbourne this evening. 
Sam Reid, president of Cider Australia, said Clive and Lynne's passion for cider, their commitment to producing unique and high quality ciders and generosity in sharing their knowledge and love of cider with others led to their selection.
"The strength of Clive and Lynne's international networks and friendships has been important in shaping and influencing Australian cider", Mr Reid said.
"They are an inspiration to many cider producers in Australia and overseas and show what is possible if you retain integrity and aim for the best", said Mr Reid.
– Ends –
About Cider Australia
Cider Australia is an independent, not-for-profit organisation funded by cider businesses and sponsors, established in 2012. It aims to build a sustainable cider category by undertaking activities that improve the quality of ciders produced and marketed in Australia. The organisation represents the interests of the cider industry to policy makers, calling for regulations and policies that support a diverse and evolving cider industry, and runs the national cider conference (AusCider) and the Australian Cider Awards.
Champion of the Industry Award
Cider Australia's "Champion of the Industry Award" honours individuals who have made an outstanding contribution to the Australian cider industry over a prolonged period of time through activities in the areas of production, technology, R&D, education, marketing, advocacy and/or media & communications. Recipients are selected by the Executive Committee of Cider Australia.
About Dr Clive Crossley and Lynne Uptin
Clive Crossley, creator of Red Sails Cider, is perhaps Tasmania's most authentic cider maker. Raised and born in Somerset, England, his passion and enthusiasm for the traditional craft of cider is second to none. Academic, sailor, orchardist and entrepreneur, Clive is the real deal when it comes to Tasmanian cider.
Lynne Uptin has been a partner at Red Sails Cider since 2009. She has worked in cultural industries management in Sydney and Tasmania including 16 years as Director of Arts Tasmania and membership of many educational and cultural boards and committees. Lynne was the founding Secretary of Cider Tasmania.
Clive and Lynne have been sharing their love of cider with the world for the past 40 years, providing an authentic Australian presence at many overseas events. Through regular overseas trips they have forged strong links within the global cider community. This has extended to hosting a vast number of international cider makers at their famous Pear Tree Cottage in Middleton, just South of Hobart, where they produce small commercial quantities of artisan cider.Their international reach and strong reputation has been important for Australian cider.
Clive and Lynne were some of the early pioneers of traditional cider apples and perry pears in Australia, with the ongoing high quality and unique style of their ciders clearly reflecting their varietal choices. They have shown an ongoing commitment to gaining an in-depth understanding of keeving and other aspects of traditional French Cider making techniques.    
A visit to Pear Tree Cottage (home of Red Sails) is a delight and a rare treat. The Red Sails orchards contain one of the largest collections of cider apple and perry pear varieties in Australia and overlook the bay where Clive keeps his Red Sails yacht. The 100+ year-old pear tree, in the middle of the orchard, provides pears to create a perry that arguably rivals the finest in England.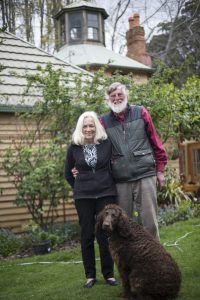 Photo of Lynne and Clive (courtesy of Bill Bradshaw)
MEDIA ENQUIRIES
For more details please contact Cider Australia executive officer Jane Anderson on 0434 559 759 or office@cideraustralia.org.au or visit www.cideraustralia.org.au.
Events
Latest tweets
Tweets by @CiderAustralia