The Australian Cider Guide
9 Nov 2020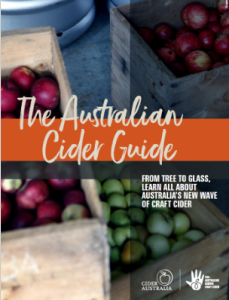 Cider Australia launches The Australian Cider Guide
-helping local and export markets appreciate Australian craft cider-
The Australian craft cider industry has been heavily impacted by the closure of hospitality venues and imposed social isolation around the nation due to the coronavirus pandemic.
To help support the industry during the peak selling season of spring/summer, and educate consumers who enjoy this new world beverage, Cider Australia has launched The Australian Cider Guide. Written by award winning drinks journalist and cider aficionado, Max Allen, the glossy A4 guide educates the reader about: the history and production of cider; the ingredients that make an authentic Australian cider; and tips on food and cider pairing for the perfect flavour experience.
Available to download here (in English, Japanese or Simplified Chinese) or in hard copy from info@cideraustralia.org.au (English only), The Australian Cider Guide is part of a $500,000 Australian Government investment to reach developing craft cider markets overseas, including Japan.
Publication of The Australian Cider Guide follows the 2018 introduction of the '100% Australian Grown' trust mark, which enables consumers to identify craft ciders made from Australian grown apples and pears; helping them support local businesses.
"While the export market is very important for the Australian cider industry, there is still significant potential at a local level, with Australian craft cider producers representing less than 15 per cent of the cider market here," commented Sam Reid, Cider Australia president and craft cider producer.
"Australia is producing world-class craft cider and The Australian Cider Guide will help Cider Australia promote the diversity of Australian ciders and the regions in which they're produced."
www.cideraustralia.org.au / #drinkAustraliancider
Media enquiries – for further information and images, or to interview Sam Reid, contact:
Roberta Marcroft or John Wanna, Write Away Communication
Ph: (02) 9978 1400
Email: roberta_marcroft@therecognitiongroup.com.au, john_wanna@therecognitiongroup.com.au
About Cider Australia
Cider Australia is an independent, not-for-profit organisation funded by cider businesses and sponsors, established in 2012. It aims to build a sustainable cider category by undertaking activities that improve the quality of ciders produced and marketed in Australia. The organisation represents the interests of the cider industry to policy makers, calling for regulations and policies that support a diverse and evolving cider industry. 
Events
Latest tweets
Tweets by @CiderAustralia