US Cider Maker bound for Perth for AusCider 2020
9 Mar 2020
Ryan Burk, Head Cider Maker at Angry Orchard in the United States of America, is the keynote speaker at AusCider 2020, to be held in the Perth Hills this June.
Ryan will share with AusCider 2020 delegates his vast knowledge of cider making and experiences in scaling up an authentic cider brand, drawing upon his involvement in the growth of Angry Orchard as well as his role serving on the board of the United States Association of Cider Makers.
He will also speak about the innovations in the US cider market and how they can impact cider production.
Sam Reid, President of Cider Australia, said Ryan will provide a unique insight into how to approach and successfully scale up a craft cider while maintaining brand integrity.
"Anyone who has listened to Ryan speak will know his passion for the cider industry and product quality and integrity is second-to-none," said Mr Reid.
"His experience in scaling up and the lessons he can share will really benefit delegates and perhaps provide a catalyst for them to go forward with more effective business plans."
"At the end of the day, Cider Australia wants to see all cider makers in Australia succeed and helping them access expertise such as Ryan, as well as all the other speakers and researchers at the conference, is integral to that objective."
AusCider 2020 will be held in the Perth Hills from 3-6 June.
AusCider 2020 is proudly sponsored by Lallemand, Winequip, Plasdene and Kegstar and is supported by the Western Australian Department of Primary Industries and Regional Development, City of Kalamunda, Business Events Perth, Batlow CiderFest and the Department of Primary Industries New South Wales.
For more information, please visit www.cideraustralia.org.au/auscider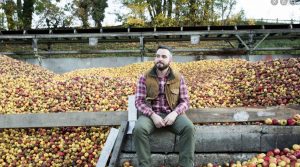 – Ends –
MEDIA ENQUIRIES
For more details please contact Cider Australia executive officer Jane Anderson on 0434 559 759 or office@cideraustralia.org.au or visit www.cideraustralia.org.au.
About Cider Australia 
Cider Australia is an independent, not-for-profit organisation funded by cider businesses and sponsors, established in 2012. It aims to build a sustainable cider category by undertaking activities that improve the quality of ciders produced and marketed in Australia. The organisation represents the interests of the cider industry to policy makers, calling for regulations and policies that support a diverse and evolving cider industry, and runs the national cider conference (AusCider) and the Australian Cider Awards.
About AusCider
AusCider is the cider industry's annual information exchange and networking event. It connects cider producers, fruit growers, researchers, suppliers and other industry representatives from Australia and overseas. The Batlow CiderFest committee and the NSW Department of Primary Industries organised and convened the first seven conferences (2012-2018) in Batlow, NSW. In 2019, Cider Australia (CA) and Batlow CiderFest (BCF) agreed to transition management of the event to the peak industry body and AusCider 2019 was successfully held in Hobart, Tasmania. As part of the agreement between CA and BCF, the AusCider conference will continue to rotate annually between the key cider producing states of Australia.  We are looking forward to heading to Western Australia in 2020!
About Ryan Burk
Ryan Burk is the Head Cider Maker at Angry Orchard, leading innovation. He is a thought leader world-wide for Cider and passionate pioneer of reviving the Cider industry in the United States. Ryan is a Board Member of US Association of Cider Makers (USACM), and a founding board member of Cider Institute of North America (CINA). He has been named among the 'Top 40 Under 40 Tastemakers' by Wine Enthusiast (2017) and 'People to Watch' by Imbibe75 (2018), drink innovators poised to make an impact.
Events
Latest tweets
Tweets by @CiderAustralia